Talib Says His Lawyers Enlightened Goodell
August 27th, 2011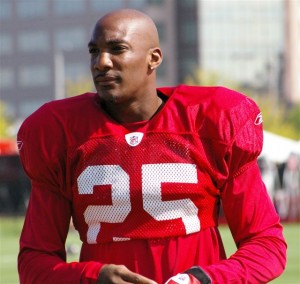 Aqib Talib was smiling and humble following the Bucs game tonight as he addressed a gaggle of reporters in the bowels of the C.I.T.S. following the Bucs win against Miami.
Talib said he believes Roger Goodell was fair and just.
"It was a great decision, man. I respect the commisioner's decision and just focus on Sept. 11," Talib said. "Happy it's over with. A big burden off my shoulders, man, and I'm ready to get it in on that level.

"It was something I had to go through. Something I had to do. And it turned out good, man, so it's kind of behind me now. I had no idea how it was going to go. I felt like the meeting went good. I'm just happy with the decision.

"It went down where [I gave] the Commissioner the rundown on what really happened and everything and my lawyer did a good job giving him information he really didn't know about. I think it was a good meeting and we definitely respect the commissioner's decision.
Talib also added his hamstring felt great and would be ready for "Calvin Johnson, man" on opening day.
Kellen Winslow was among many Bucs who expressed his pleasure at Talib's new found freedom.
"He's the X factor," Winslow said.