So Where Is Roger Goodell Now?
August 30th, 2011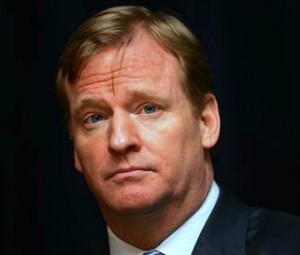 Last week there was all sorts of news about the possibility of NFL warden commissioner Roger Goodell throwing the book, kitchen sink and hot tub at troubled Bucs cornerback Aqib Talib, the villain in a  case of a Texas man allegedly being pistol-whipped and shot at while fleeing a scene earlier this spring.
Cooler heads prevailed, as Talib and his legal counsel arrived at Goodell's chambers to hear their case, and Goodell postponed any sentence until after Talib has had his day in a Texas courtroom.
Now Joe is fully aware Goodell did not have to wait. He could have suspended Talib if he so chose. But it was prudent of Goodell to wait for the facts to be heard in a court of law, as opposed to, say, cutting Talib loose.
Having written that, Joe would like to know where Goodell has been involving the case of Cincinnati running back Cedric Benson.
The former University of Texas star and former Bears running back (boy, what a memorable Super Bowl he had) settled Monday in a case where he agreed to plea guilty on two misdemeanors and serve 20 days in a cage, as documented by FoxSports.com.
Benson was arrested in 2010 for allegedly punching a bar employee in Austin, an incident that earned him a meeting with NFL Commissioner Roger Goodell last year but resulted in no punishment. He pleaded no contest to a charge of assault with injury in that case.

He also was arrested last month for allegedly punching a former roommate in downtown Austin. He pleaded no contest to a charge of assault with bodily injury with family violence, and that will be dismissed if he performs 30 hours of community service and pays an undisclosed amount of restitution to the victim.
Resulted in no punishment!
This is simply outrageous to Joe. Now Joe has no problem at all with Goodell suspending miscreants if he sees fit. Hey, don't want to get in trouble with Goodell? Don't be a moron. Real simple.
But what confounds Joe is the rank inconsistency of Goodell's sentences. Talib was suspended for speedbagging a cabbie's head. Fine, no problem.
But Benson blasts a dude in a bar in full view of patrons and employees and Goodell just shrugs his shoulders, really?