Offense Needs To Cut Down On Penalties
August 29th, 2011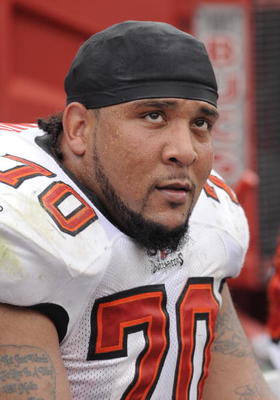 What a difference a week makes.
When the Bucs played the Patriots, the Bucs didn't scheme, which Joe dug up evidence to prove that was the case despite what the haters had to say.
Donald Penn even noticed a difference as he kindly gave Joe a few minutes after the game.
"I thought we came out with good intensity, overall," Penn said. "We were hungry and more focused than last week."
Though Penn was happy with the start, he understands there's more work to be logged before the Bucs are ready to throw down with the Lions Sept. 11.
"We still have to minimize our penalties," Penn said. "When we are out there playing, I don't see [the big picture] so I've got to look at the film but I do know penalties will always hurt an offense so we definitely have to work on that."
The fact the Bucs had 135 yards in penalties made Joe look on the Bucs roster for Kenyatta Walker.
(Hat tip Jenna Laine).