"Second-Chance Mentality" Permeates Bucs
August 1st, 2011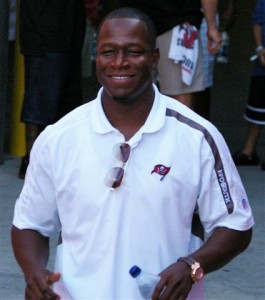 Raheem Morris spit out one of the more intriguing lines of the day yesterday while answering a simple question about Mike Williams' development.
The head coach dropped a bunch of love on Williams, rightfully so, including saying he's taken on the "second-chance mentality" that runs through the club.
"He's playing great football right now," Raheem said. "You can't help but see that glow and that smile from the young man. He's developed a nice chemistry, swagger, youth, energy, second-chance mentality that this team is about. And he's making the most of it."
Williams, of course, had his off-the-field troubles in college that dropped him to the Bucs in the fourth round of the 2010 draft. And the list of guys who effectively got some form of second chances with the Bucs is long, from undrafted castoffs like LeGarrette Blount and Ted Larsen, to Earnest Graham, Micheal Spurlock, Aqib Talib and others.
It's surely a great thing on a team to have a pile of guys who appreciate their jobs and would rather die than have it ripped from them.
Joe wonders whether rockstar general manager Mark Dominik and Raheem, after their horrendous starts to 2009, also have some of that second-chance mentality, as well. That can only be a good thing, if they do.