Raheem Clobbered By Mike Lombardi
August 24th, 2011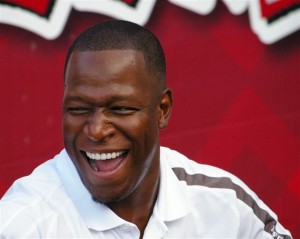 NFL.com scribe and NFL Network talking head Mike Lombardi, a former player personnel executive, isn't in the Raheem Morris fan club.
Lombardi clobbered Raheem on NFL.com yesterday, taking Raheem's comments after the Patriots' beating and saying they're evidence Bucs' players have lost confidence in Raheem because he's blowing hot air, among other negativity.
Morris had the perfect opportunity to be more demanding on his team using the Patriots approach as a symbol of excellence, but he chose to dismiss the Patriots style and allow his team to not be accountable. Do you think his players really believe Morris' approach is better than that of a three-time Super Bowl winning coach? Morris missed his chance to take his team to another level.

The worst thing any coach can do — whether it's Mike McCarthy of the Packers or Bill Belichick of the Patriots — is to be satisfied based on preseason play. A coach must keep his team focused during preseason, keep them working to improve and keep their full attention. Therefore, when a team plays poorly, or below that level, a coach has the opportunity to make the corrections needed and refocus his team, which is exactly what Reid is going to do this week.
Joe suggests you click through and read the whole blast from Lombardi, who contrasts Raheem to Andy Reid and his reaction to the Eagles' brutal loss last week.
Joe's stunned because Lombardi is writing as if Raheem's postgame message to the media is exactly the same as the one to his players. Why is Lombardi so sure of that? Geez, Lombardi worked side by side with Chucky. One would think he'd be intimately familiar with how coaches say one thing to players and one thing to media.
Plus, it's half a preseason game when the Bucs didn't scheme against the Patriots. Who cares?
Joe suspects Lombardi was all too eager to blast Raheem, giving no respect or benefit of the doubt to the rightful coach of the year in 2010.