"Not The Same Team" That Beat New Orleans
August 7th, 2011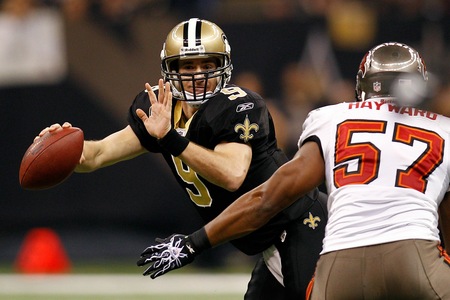 It's a glass-half-full, glass-half-empty argument. The Bucs outplayed and beat the Saints last year in New Orleans with a slew of backups, rookies and little known players.
An optimist might say that shows how deep the Bucs are and how much better they'll be with so many starters returning in 2011. But a pessimist might wonder whether the Bucs that beat the Saints are better — or at least more effective collectively — than the Bucs that missed that game. 
Defensive tackles Al Woods and Frank Okam were strong in New Orleans, and Alex Magee got a big sack, one of three for the Bucs that afternoon. Barrett Ruud called the shots in the middle while Adam Hayward and Dakoda Watson got a lot of snaps with Quincy Black on the shelf. Larry Asante intercepted Drew Brees, as the secondary covered the absences of Aqib Talib and Cody Grimm. Then there's Derek Hardman, James Lee and Jeremy Zuttah. Add all those contributors together, and there's 10 guys that might barely see the field for the Bucs on opening day against Detroit next month.
At the end of a loving Gary Shelton column today in the St. Pete Times about Ronde Barber, the Bucs icon made a strong point about the major loss of Ruud.
Barber pointed out the Bucs won't be the same team that left the field in January, which got Joe thinking about how much change, in fact, will be in place in five weeks.
[Barber] on departed linebacker Barrett Ruud: "We have so many guys who are hungry. I know we have some huge shoes to fill to replace Barrett. I understand the business, but if we had to play a game right now, we're not the same team we were on January in New Orleans just because he's not there. We need a dominant (middle) linebacker to emerge in the next couple of weeks. You talk about underappreciated? Barrett was underappreciated."
This is a big reason why Joe is chomping at the bit to see the Bucs in preseason action. There's an awful lot to see come together, more than it might appear.