First Quarter Continues To Kill Bucs
August 20th, 2011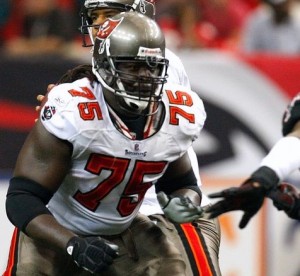 Of course everyone at One Buc Palace will state from the start that Thursday night's debacle against the Patriots and Bill Belicheat was just a preseason game, a glorified scrimmage, the Bucs weren't scheming, et al.
All valid points.
But there's one point that eye-RAH! Kaufman of the Tampa Tribune makes that happened Thursday and is reflective of last season for the Bucs:
The Bucs offense simply is stuck in first gear in the first quarter.
The Bucs were outscored 73-43 in the opening quarter last season as only Carolina (35) scored fewer first-quarter points in the NFC.

"We have to be able to start strong against a good opponent," Joseph said. "We've got to go out in the first quarter and sustain drives, giving our defense a fighting chance. You can't keep putting yourself behind the eight-ball with penalties.

"Starting strong was a problem last year and we've got to get ourselves in manageable down-and-distance situations. They say this game doesn't matter, but the things we did are not going to be good for us in the regular season and in the long run."
It is fundamental football, especially with the Bucs. Now, yes, the Bucs have a chance to have a prolific offense (provided the front line keeps Josh Freeman's jersey clean). But digging yourself a hole neutralizes one of the Bucs' best weapons LeGarrette Blount.
Scoring a touchdown once in a while in the first quarter — which is just what the Bucs did at Kansas City last week — is chicken soup for the Bucs' soul.