At Least Tom Brady Was Sacked
August 19th, 2011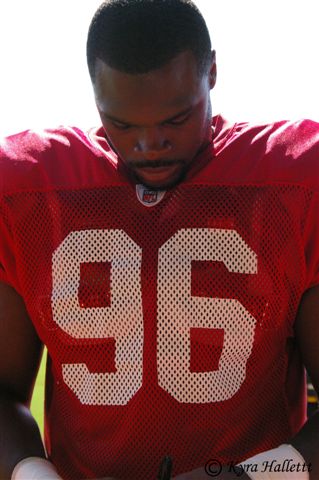 Bucs fans fishing for bright spots out of last night's game can surely grab hold of defensive end Tim Crowder's sack of Tom Brady, who doesn't hit the turf all that often. Crowder talked to Joe about his game and more.
JoeBucsFan.com:  How did you play against New England?
Tim Crowder: I think I did ok. I'm still polishing all aspects of my game. As far as pash rushing goes, I feel I'm finally starting to figure it all out from my experience and coaching.
Joe: Didn't see you on special teams? What was the deal there? You've been a big contributor there.
Crowder: They were just giving me a break and other guys looks. I'm sure they'll take advantage of what I can do on special teams. I like to think I've exceled there and I look forward to it.
Joe: Your sack was against rookie left tackle Nate Solder and the rest of New England's starting offensive line. Tell me about it.
Crowder: Let me say [Solder's] going to really be a good player. He's going to be a monster. I got up on him fast with a long arm and got through.
Joe: Are you more comfortable on the left side or right side of the line?
Crowder: Most definitely the right side. I'm left-handed. I can put my natural left hand down and go.
Joe: You were the last of the Bucs unrestricted free agents brought back to Tampa. Was that a tough time for you? Were you visiting other clubs? What was that like?
Crowder: To be honest with you, I really don't know what was going on. I learned we had a deal, and I felt very blessed to be here and be a part of all this team is.
Joe: What kind of advice have you been able to pass on to Adrian Clayborn.
Crowder: I tell him to do what you do best — 'Don't ever forget what got you here.' He 's so aggressive and that's what it takes. Working with the coaches and learning like he is, I feel he can get it real quick. He's just got to maintain that aggression.