An Uphill Battle For Jock Sanders
August 27th, 2011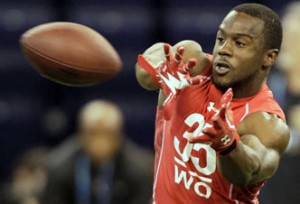 Ok, Joe's trying to clean out his notebook before the Bucs host the Dolphins tonight.
After the Patriots beatdown, Joe got a chance to go back to the way back machine and talk to wide receiver/return specialist Jock Sanders. It was hardly the first time Joe has spoken with Jock. Joe remembers writing about him when he was a freshman at St. Petersburg Catholic, a terrific running back.
Joe vividly remember seeing his name and confirming with school officials, yes, his first name is "Jock." Then, filing a story on deadline, Joe just knew copy editors would call within seconds screaming about his first name.
It happened like clockwork.
Last week was a special moment for Sanders, even he admitted it. He grew up worshipping the Bucs and went to some Bucs games as a kid. Now, he was returning punts wearing a Bucs uniform in a game at home, with his family in the seats. This is Hollywood stuff for a guy.
Joe, however, was impressed with Sanders in that rather than be giddy, he was upset with the loss.
"Yeah, it's a dream come true but I have got to go out and handle business," Sanders said.
By all accounts, Sanders making the squad is a long shot. He's a 5-6 receiver in a crowded roster filled with talented receivers. The only ways Sanders will make the Bucs is as a return man.
Thus far Sanders hasn't really exploded enough. He did have a nice kickoff return of 25 yards against the Pats but his punt returns have been nondescript.
He genuinely felt miserable after the Patriots loss.
"Of course we can do better," Sander said. "Immediately after this game you were already down because you knew you could have played better."
Joe likes the attitude. But Sanders will have to give Bucs officials more to like on the returns if he is to return kicks against the Lions come Sept. 11.