Will Dominik Respond To Joseph's Hints?
July 6th, 2011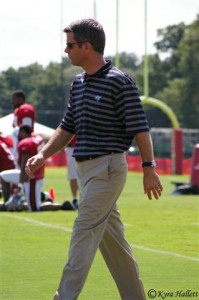 At various times and in various forms recently, Davin Joseph has told the media he wants to see the Bucs re-sign his pal Jeremy Trueblood and Barrett Ruud so Joseph himself can feel good about re-signing with Tampa Bay.
For Joe, Joseph's comments come off as a calculated, public squeeze play attempt on Mark Dominik. This doesn't sit well with Joe.
Perhaps Joseph is just being honest. But are we really to believe he's going to thumb his nose at a fat contract from the Bucs — a team he claims to love — because, say, the Bucs consider Trueblood replaceable?
Here's Joseph's latest, via Anwar Richardson of TBO.com.
"I love the coaches here, I love the players, love the community, but at the end of the day, it's a business," Joseph said. "That's the heartbreaking part about it. There are some guys that you've trained next to for five years and now you have to say goodbye because at the end of the day it's a business.

"Hopefully, everything makes sense with me getting back here in Tampa, bringing my buddy Blood (Trueblood) back and making sure things work out well for the team and making sure everything is going forward because after having such a great year last year, I would hate to think we would make too many changes."
Joseph's comment about things "going forward" might hold some water if the Bucs were 6-10 last year and not 10-6 with a young roster. Again, for Joe's taste, Joseph seems far too concerned with playing GM.
Just take the forthcoming offfer, assuming it's fair, appreciate that you've got talent behind you and around you, and flatten everyone in front of you.