Rookie DEs Can Shine After Lockout
July 6th, 2011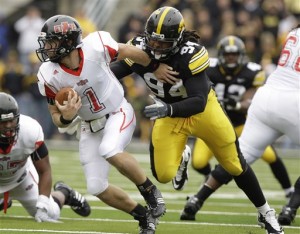 In separate interviews with Justin Pawlowski, The Commish of WDAE-AM 620, both Da'Quan Bowers and Adrian Clayborn acknowledged they might not grasp the playbook for a while but they already know how to get to a quarterback and drive his body into the turf.
(Perhaps they can teach Kyle Moore.)
Interestingly, in a position-by-position examination of how rookies may or may not be succesful following a lockout-shortened offseason, longtime NFL scout and executive Greg Gabriel writes that pass rushers are among those who can be expected to deliver an impact quickly. Gabriel penned his piece for NationalFootballPost.com.
On defense, linemen probably have the best chance to play early, especially if they are outstanding pass rushers. At the least, the good pass rushers can play in passing situations and just be turned loose. It may take a bit longer to play on running downs only because the coaches have to be sure they know the defense. A simple mistake can lead to a big play because the defender is out of position.
Joe is very intrigued by this take. It makes a ton of sense. It also could further explain why rockstar general manager Mark Dominik waited to snatch two defensive ends with his first two picks of 2011, knowing a prolonged lockout was inevitable.
Joe's just going to hope either Bowers or Clayborn is healthy and exceptional. If the Bucs strike gold on just one of those guys, they should be in great shape going forward.