Where Is Talib?
July 10th, 2011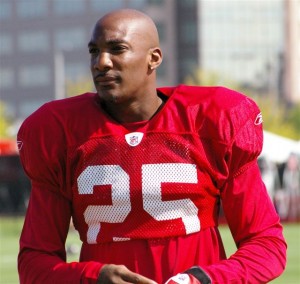 Everything Joe's read from many media outlets and heard directly from Bucs players claims Aqib Talib has been a regular at Josh Freeman's offseason workout sessions in Tampa, plus Talib was at Freeman's minicamp in Bradenton two weeks ago.
So Joe was surprised to read beat writer Rick Stroud's offering today that paints a different impression of Talib's offseason whereabouts. It's in a St. Pete Times story about Ronde Barber commenting on what's best for Talib. Here's a snippet:
Barber said he and coach Raheem Morris have implored Talib to spend his offseason training in Tampa. But Talib has chosen to return to his hometown near Dallas, where his mother and two sisters live.

It was there, in Garland, where Talib and his mother, Okolo, were arrested in connection with a shooting involving the live-in boyfriend of one of Talib's sisters March 21.

"He has his life in Dallas, and I don't know what that life is," Barber said. "Aqib is a person that should be … the confident Buc.

"But he's got to embrace Tampa the way Tampa as the team wants to embrace him. (Former Buc great) Warren (Sapp) was great with that. He knew the team atmosphere was better when everybody is around. There's a culture, a spirit, and nowadays (players) want to go back and train wherever they are.

"That's different than from when I was coming up. We always wanted to be around."
Joe suggests you read Stroud's entire piece linked above. There's no mention of Talib working regularly with his teammates this offseason, and there's no source that backs up "Talib has chosen to return to his hometown." Very strange.
And how about the irony? Talib is being advised, via a St. Pete Times story, to build roots in Tampa, when the same newspaper reported the Bucs already have decided to cut Talib when the lockout ends.
Joe gets Barber's desire for Talib to immerse himself in the Tampa community, which likely would keep him away from his troubled family, which led to his recent legal troubles. 
However, Joe's not about to advise Talib to distance himself from his loved ones. Like Barber said, he doesn't know what Talib's Texas life is like.
Neither does Joe.
For all we know Talib has great relatives and friends there who offer him real support. Regardless, Talib needs some form of regular counseling first and foremost.  As Talib knows, he can find trouble regardless of his address. Joe can only hope he's getting that counseling.