Defensive Line May Struggle Early
July 9th, 2011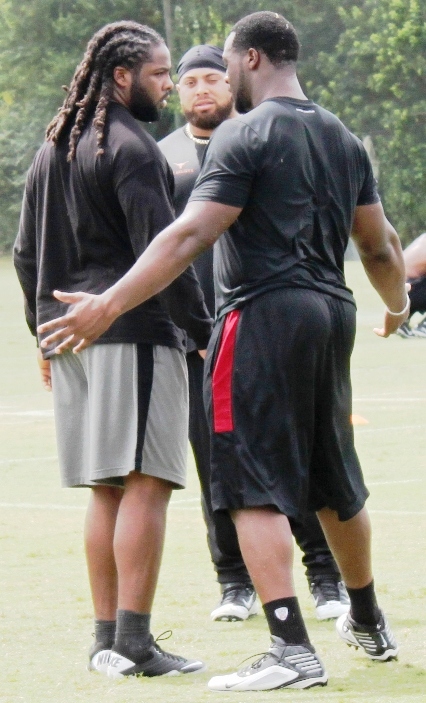 In many respects, Bucs rock star general manager Mark Dominik is hoping to see some payback on his investments the past three years on the defensive line.
Dominik has spent much collateral (and Team Glazer cash) on the defensive line in three drafts. Roy Miller, Kyle Moore, Gerald McCoy, Brian Price, Adrian Clayborn and Da'Quan Bowers. Only Miller (third round) and Moore (fourth round) were not high draft picks.
That's six defensive linemen in three drafts. Yet the Bucs continued to stink the joint up on the defensive front.
Part of this was inexperience, part of this was bad coaching (Todd Wash), part of this was injuries. And it may be the latter reason why the Bucs and Dominik still may not see the corner turned on the defensive line, so writes eye-RAH! Kaufman of the Tampa Tribune.
The Bucs have struggled to generate an effective pass rush or establish a credible run defense during the two years of the Mark Dominik/Raheem Morris regime. Tampa Bay has used four premium picks in the past two drafts on defensive linemen, adding tackles Gerald McCoy and Brian Price in 2010 and ends Adrian Clayborn and Da'Quan Bowers in April.

McCoy (biceps) and Price (pelvis) suffered significant injuries as rookies and third-year defensive tackle Roy Miller has yet to develop into a force against the run. Bowers was bypassed in the first round because of lingering questions about the health of his knees.

One of the league's youngest defensive lines hasn't had the benefit of organized team workouts under the guidance of Tampa Bay's staff, which includes new defensive line coach Keith Millard. Even Dominik sounds unsure just how much playing time the Bucs can expect from Bowers in 2011 and Price may not be ready to contribute much in his second season as he continues his recuperation.
Joe believes the Bucs will flourish under Millard, but it will take time, as Kaufman suggests. GMC, during Josh Freeman's minicamp last week at IMG, said he met Millard just before the lockout and Millard showed GMC many, many clips of how GMC had his man beat, time after time, but because of lousy technique and fundamentals, GMC couldn't finish the play.
GMC said that has been his offseason goal, along with getting healthy, to work on the fundamentals that Millard pointed out before this asinine lockout began.
Joe believes that was also why GMC was such a coach to his fellow defensive linemen, specifically Clayborn, last week. GMC knows what he did wrong, thanks to Millard, and how to correct his mistakes, also thanks to Millard.
And it was cool to see Clayborn soaking up each and every word GMC spoke.