Weekend Programming Note
July 29th, 2011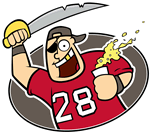 For those new to JoeBucsFan.com, Joe runs a 24/7 operation on these here pages, which means Joe will be hammering out updates  and photos from training camp all through this glorious football weekend.
So don't forget to stick Joe in your favorites and stay connected.
Also, Joe wants to thank those of you who delivered a whopping 17,000 actual visits to JoeBucsFan.com yesterday. Joe is humbled and energized by the support, and damn thankful his crack tech manager (aka Joe) had prepared for that kind of action. Plus Joe is happy to be delivering such astounding value for his advertisers. No wonder they stick around for years!
And don't forget, the only place to stay up to date on the Rays' moves at Sunday's MLB trading deadline is the wildly popular JoeRaysFan.com.