The Poz And The Bucs
July 11th, 2011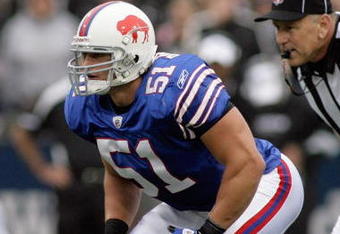 Stuck in this seemingly endless asinine lockout, Bucs fans have to come up with other things to chatter about with the absence of transactions.
That would be hypothetical transactions. And few things Bucs fans enjoy talking about more is the value/drag that middle linebacker Barrett Ruud is to the Bucs.
There is no guarantee Ruud will be back. So Bucs fans have had to dream of who may replace him.
Not long ago, Joe threw out the name of underrated linebacker Paul Posluszny who, like Ruud with the Bucs, is in the same boat with the Bills.
The Poz, the personification of a Penn State linebacker in college, spoke with popular sports radio personality Adam Schein and former NFL quarterback Rich Gannon today on "The Blitz," heard exclusively on SiriusXM NFL Radio, and invoked the Bucs as a potential landing spot for him, if everything shakes out properly.
"There are several teams that may have a need [for a linebacker]," Posluszny said. "There are some 43 [defenses] that I can be a good fit in. I hear a lot about the Giants. The Bucs would be a good fit too but it depends on what they do with Barrett Ruud. There are several teams that may have a need or may not, it depends on who they bring back.
"The more you think about this, you drive yourself crazy."
Joe thinks The Poz would be a good replacement for Ruud, but not perfect by any means, if Ruud were not to return. Poz is very much a student of the game and the guy is not just a ballhawk but a solid tackler and not shabby in pass defense. The guy is also very much a leader with the Bills, just like he was for JoePa, which is no surprise.
Joe would feel a helluva lot more comfortable with The Poz at middle linebacker than rookie Mason Foster, who may not even be a good middle linebacker fit on the NFL level.
But if Joe would have to guess, unless Ruud is totally PO'ed at Bucs rock star general manager Mark Dominik and has already made up his mind he won't be back, Joe's of the belief Ruud will be back starting for the Bucs at middle linebacker whenever this asinine lockout ends.
After the interview, Schein went on to say that Posluszny is the No. 2 free agent linebacker on the market, behind only Ruud. And to be honest, Joe thinks the Bucs would be better off with Ruud.