Josh Freeman Makes NFC South "Best"
July 11th, 2011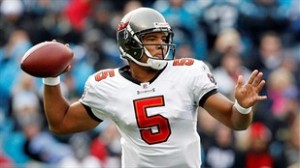 The Bucs coulda, shoulda been in the playoffs. It's one of Josh Freeman's favorite sayings.
But it is because of Freeman that the NFC South may just be the best division in the NFL. That doesn't come from Joe, that comes from "The Professor," John Clayton of BSPN.
The longtime NFL scribe fielded questions recently and suggests if the NFC South is not the best division in the NFL, it should be shortly.
Q: In the NFC South, the Saints seemed to hit a stumbling block. With Matt Ryan guiding the Falcons to a 13-3 record and only getting better, as well as Josh Freeman being called the most promising QB since, well, Matt Ryan, the Saints aren't the only good team in the South anymore. The Saints have Drew Brees, but no running game and an inconsistent defense. Are they legitimate this year?

Cal in Los Angeles

A: The NFC South is turning into a marathon, not a sprint. It's becoming the best division in football because of Brees, Ryan and Freeman. It's only going to get better once Cam Newton develops. Part of the problem for Brees and the Saints last year was that the Saints played their toughest games on the road while the Falcons' toughest games were at home. Don't be surprised if the Saints win the division this year, and Ryan and the Falcons get a wild card. We'll see where the Bucs finish, but I think you're going be seeing at least two teams make the playoffs from the NFC South.
If one is to believe the suits Clayton works for, one would be brainwashed into thinking the NFC East is the beast of the NFL. Not only is this unadulterated propaganda, it simply isn't true. Just off the top of Joe's head he can think of four divisions better than the NFC East, yet those teams are pounded into innocent viewers' subconscious as the best division in football, year in and year out by the four-letter outfit.
Yeah, when Joe Gibbs, Bill Parcells, Jimmy Johnson, Buddy Ryan and Gene Stallings were coaching in the NFC East, it was a beast of a division, but not since.
Joe doesn't think it's outrageous at all to suggest the NFC South is the strongest division, though the NFC North is likely the best, but not by much.