"That Chatter Has Quieted"
July 7th, 2011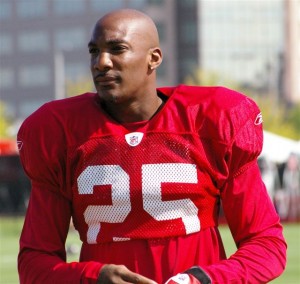 Many Bucs fans were in stunned disbelief when the St. Pete Times cranked out a story several weeks ago claiming the Bucs already had made the decision to cut Aqib Talib when the lockout is lifted.
Joe quickly tried to soothe Talib fans and fans of intelligent NFL management, writing that the unsourced claim by the Times didn't fit Mark Dominik's approach to the Bucs and didn't make any logical sense, considering under that scenario the Bucs would lose a valuable player without getting anything in return.  
It seems there's an update to the Times' claim, courtesy of a live chat with Times columnist John Romano on TampaBay.com yesterday. A chat participant asked whether the newspaper still stands behind its claim of Talib being a goner. Romano dodged the question like Josh Freeman avoids a rush.
12:56 Comment From Kevin G.
Do you Times guys still stand behind the report of the Bucs releasing Aqib Talib at the end of the lockout? 
12:56: John Romano
Shortly after his arrest, there was a lot of chatter from One Buc Place that he would not remain on this roster. That chatter has quieted considerably.
Does anyone answer simple questions any more?