No Competition For Faine
July 25th, 2011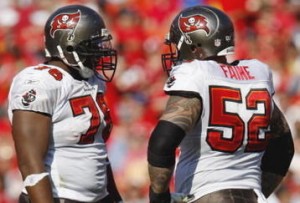 Joe's a Jeremy Zuttah fan. Joe doesn't hide it, and didn't last year when Joe was standing on the roof pounding the drum in the preseason for Zuttah to play over Keydrick Vincent.
Remember him?
For the life of Joe, he can't understand why some fans aren't high on 25-year-old Zuttah, who has performed well at three positions on the offensive line in his first three seasons — and can also play a fourth position, tackle, where he played at Rutgers.
Last year, it just so happened that the Bucs offense didn't miss a beat — and improved — when Zuttah took over for injured center Jeff Faine after eight games.
But don't expect Faine to lose his starting center job to Zuttah, said former Bucs guard Ian Beckles during the Ron and Ian Show today on WDAE-AM 620.
"When are they going to battle, really? You can't wear Jeff Faine out in training camp for the sake [of competition,]" Beckles said. "Sometimes you're so valuable as a backup you won't start. … It's not fair, but that's the way it is. I've seen that before."
Beckles went on to make the point that Zuttah is so versatile that he allows the Bucs to dress eight offensive linemen instead of nine, which is a huge benefit and allows for another active special teams specialist.
Joe would prefer to see Faine and Zuttah slug it out and let the best man win, but if Zuttah's not in the Bucs long term plan at center, then maybe they're best off with him backing up Faine until they can perhaps grab the center of the future in the 2012 draft.