"Never Heard Of A Finesse Middle Linebacker"
July 26th, 2011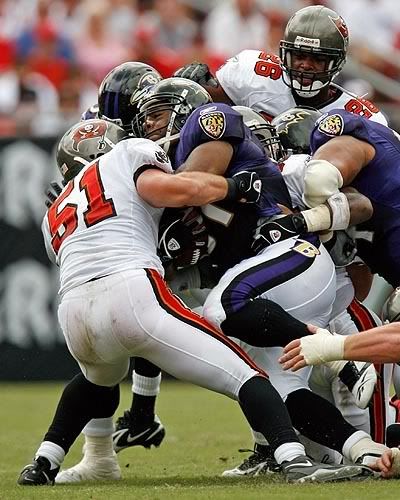 Of course, the most polarizing Bucs news in the next week will be the signing — or non-signing — of Mr. Barrett Ruud.
Joe's heard Home Depot is already running low on tiki torches and other angry-march-friendly flammable items.
One man sure to lose it if Ruud re-signs is former Bucs guard Ian Beckles, the WDAE-AM 620 radio personality who thinks Ruud is softer than silk. Beckles continually finds new ways to explain his disdain for Ruud's play, as he did on the air Monday.
"In all the years I've been around football, I've never heard of a finesse middle linebacker. [The Bucs] broke that mold," Beckles said.
Joe's never heard of a finesse middle linebacker, either. And maybe there is no such thing.
Regardless, Joe expects the Bucs to offer Ruud exactly what they think he's worth.