Mark Dominik Is Doing "It Right"
July 28th, 2011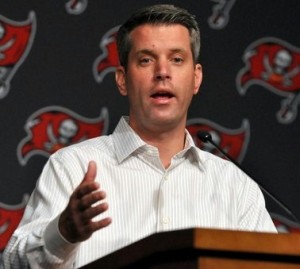 Joe reads the comments. He sees his Twitter messages.
Many Bucs fans are slamming their pints of beer on the bar in frustration because Bucs rock star general manager Mark Dominik (seemingly) is watching the boats float down the river as other NFL teams gobble up free agents or make trades to better themselves and, thus far, Dominik has stood pat.
Pete Prisco of CBSSports.com has noticed this as well and had something to Twitter about it. In short, he's in Dominik's corner.
@PriscoCBS: Bucs do it right. Ton of money, but not being crazy with it.
Joe had tried to calm his readers on Twitter earlier this week. Joe was bombed with "who are the Bucs going after in free agency" type questions on Twitter, and Joe would always respond that Dominik would likely take care of his own first and maybe dabble in second-tier free agents.
Dominik learned a lesson with the near-miss of Facestomper Haynesworth and the mess that Kardashian-chasing Derrick Ward turned out to be. Since, Dominik has treated big-named free agents as if they have cholera.
As Joe has stated many times before, dollars do not equate wins. They just don't. And really, who can soberly argue against what Dominik has pulled off the past 18 months?