Jimmie Giles Gets The Nod
July 12th, 2011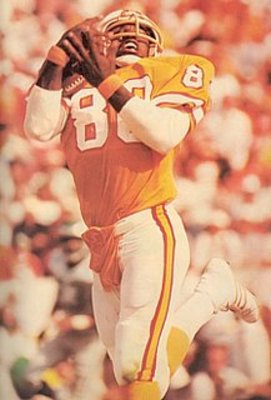 Well, Joe had a whole post scheduled to appear here now handicapping the odds of the 2011 Ring of Honor enshrinee by the Bucs. The team will make the announcement tomorrow.
But now the cat's out of the bag. Rick Stroud of the St. Pete Times is reporting confirmation from Doug Williams that Jimmie Giles has gotten the nod.
At least Joe was on the Ron and Ian Show on WDAE-AM 620 early this morning and named Giles as his No. 2 most likely selection. Joe thought Ricky Bell was the lead candidate to get the nod this year, as he's a worthy choice and was one of four Bucs already honored by the team in the old Krewe of Honor at The Big Sombrero, along with Lee Roy Selmon, John McKay and Doug Williams.
Williams will get in one day, but Joe never thought Williams would get in this year simply because how could Team Glazer gamble that, if selected, the seemingly still bitter Williams would show up for the honor? Williams went public with his disgust about the team parting ways with him before this season.
Giles was good for four Pro Bowls in his creamsicle uniform (1978-1986). Surely deserving.
Joe's got to hand it to Team Glazer for staying old school and not going for the money grab — as in ticket sales. Enshrining a modern era guy like Warren Sapp, Tony Dungy or Derrick Brooks likely would have meant huge cash and hype for a 2011 game. Sorry, but Giles won't mean more than a teeny blip at the box office and little to the media.
Nice to see Team Glazer honoring men (perhaps forgotten by some) from a team it didn't own. The owners seem commited to building a
meaningful Ring of Honor. They didn't take the easy way out.