"I Won't Get Tossed Around By Anyone"
July 3rd, 2011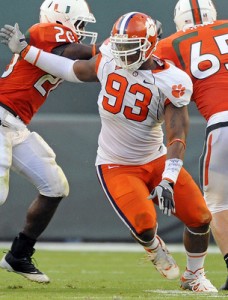 The Bucs have college football's top defensive end in 2010 on their roster, Da'Quan Bowers. Exciting stuff whether you're an optimist or pessimist.
Whether Bowers is healthy is a question hopefully answered soon, but it's still damn exciting to have grabbed this guy. During his extensive exclusive interview with Justin "The Commish" Pawlowski on WDAE-AM 620 this weekend, Bowers explained his versatility and why fans shouldn't confuse him with the late Gaines Adams, even though they were close and wore the same number at Clemson.
Bowers: I have the speed that Gaines [Adams] had but I'm a lot stronger than he was. I very strong. I can normally run by you but I can run through you if necessary. And As far as the running game, I can hold my own. I'm not going to get tossed around by anyone in the running game, offensive tackle or tight end.

The Commish: Do you prefer the left side or the right side? … As a defensive end, does that matter which side of the line you're on? 

Bowers: I've played both my entire life. I have no preference. … Some guys won't put their left hand down, some guys won't put their right hand down. But me, I've done it so long it comes naturally to me. It doesn't matter what side I'm on.
Joe can't wait to see what this guy's got, and what Keith Millard can do with him. Imagine if he really is a versatile manbeast churning out double-digit sacks?
If Joe's going to fantasize, and Rachel Watson is not involved, then Joe's imagining a healthy Bowers with a massive chip on his shoulder.