Huggins Out Of The Picture
July 30th, 2011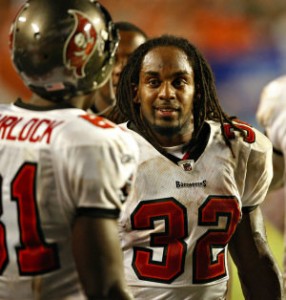 Good guy running back Kareem Huggins, once "the driving force of our football team," per Raheem Morris, is looking for work.
Huggins was at the player-only minicamp in Bradenton last month, but he's not a Buccaneer, so said Raheem Morris today.
"He's not on our football team right now," Raheem said.
Joe suspects he'll keep battling back to get another shot. Undrafted and out of football in 2008, Huggins was a practice squad legend in 2009, and then ripped up his knee against New Orleans last October.
Joe wishes Huggins well.