Fitness Gap A Post-Lockout Reality
July 11th, 2011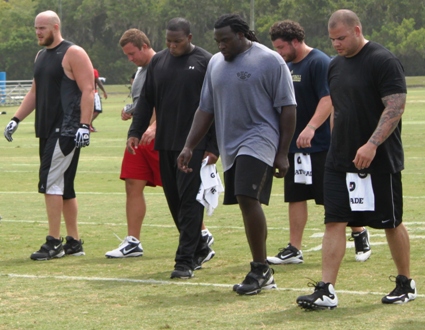 Whenever the asinine, torurous lockout is over, the Bucs will report to training camp in a relative hurry and re-unite with trainers and coaches after several months away. Some players will come in fitter than ever; Some will be downright soft.
That's going to be an inevitble byproduct of guys being out of touch: wild ranges in fitness.
In an interesting look at how a team is affected by all things lockout, Houston Texans general manager Rick Smith shares an insider look into various ,as he stepped in for the vacationing Peter King and penned his Monday Morning Quarterback Column for SI.com. One of Smith's takes was on planning for the fitness gap. Here's an excerpt:
I think on average we will see about 75-85 percent of the players in excellent physical condition. There will be about 10-15 percent who will be close, and about 5-10 percent who aren't in good condition. That can be problematic in a training camp environment, and it will be a challenge to manage. If we use those percentages for conversation sake, teams will have to get the 20-or-so percent of players who are not in condition up to speed slowly. That could in turn overtax the 80-or-so percent of players who do report in shape and potentially subject them to overwork and increase risk of injury. Soft tissue injuries and pulls are going to be a major issue if teams are not smart and don't work through this unique situation with some flexibility.
Joe's intrigued by the challenge this could present. So say, for example, the Bucs have 12 offensive linemen entering an abbreviated camp that starts August 2. And eight are super fit — more than they might be in a standard offseason because they planned for a shorter training camp —  three are softer than Joe imagines Rachel Watson's bosom to be, and one is somewhere in between.
How do you train and evaluate the group together and best serve their bodies?
Joe suspects this will be a big factor along the Bucs' offensive and defensive lines, where there should be an extraordinary amount of competition.