D-Line Vs. O-Line; Price Sits Out
July 31st, 2011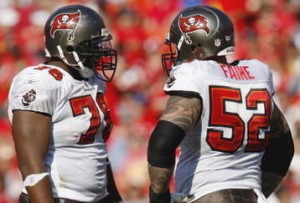 Despite the glorfied touch-football, no-pads nature of these early practices, the drill with one defensive lineman lining up against the entire offensive line working in position is fun to watch.
Actually, anything that involves the animated D-line coach Keith Millard, is worth the time.
Some highlights:
1) Alex Magee got an earful from Millard for jumping offsides.
2) Jeff Faine threw Al Woods to the turf — quickly — nearly right off the snap. Like a true captain, Faine was up and coaching Woods on what he did wrong a couple of minutes later.
3) Adrian Clayborn was mad that he couldn't beat Donald Penn after a coule of shots. Keep trying, kid.
4) Roy Miller drew screams of joy, "Yes! Yes," from Millard. Not sure why, but Millard's raspy voice hit a new level.
5) Derek Hardman working at left tackle looked uncomfortable.
6) As usual, after the session, Gerald McCoy waited on his water break to come talk to Millard about technique. McCoy did the same thing after working on the dummies.
Sadly, Brian Price was walking gingerly after an earlier 11-on-11 session and sat out several drills. Joe's got no clue why.
Again, as Raheem Morris said, these guys are all working in their underwear, so Joe's not drawing any legitimate conclusions.