Bucs Need Strong Defensive Front
July 11th, 2011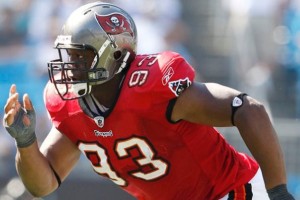 Hey, fans are allowed to dream, right? Of course. And that's the premise Dave Scheiber of FoxSportsFlorida.com took recently.
Scheiber decided to put fingertips to keyboard and pound out six things the Bucs must accomplish for the Pewter Pirates to advance to their second Super Bowl. Of the six is a dominant defensive line.
A disruptive D-line: The Bucs were among the league's worst in stopping the run last season and finished second-to-last in sacks, but they have the makings of a much-improved defensive line heading into the season. Last year's No. 1 draft pick, tackle Gerald McCoy out of Oklahoma, suffered an arm injury and didn't get a chance to develop into the impact player the team expects he'll be now that he's healthy. And in the recent draft, general manager Mark Dominik tapped a pair of promising linemen: defensive ends Adrian Clayborn of Iowa in the first round and Da'Quan Bowers out of Clemson in the second. Second-year tackle Brian Price remains a question mark, trying to return from a rare surgery that repaired a torn hamstring and broken pelvis. But the defensive line features a promising blend of youth and experience (such as Roy Miller, Stylez White and Tim Crowder). And the unit, in spite of a poor turnout at Freeman's minicamp, is positioned to turn up the heat on quarterbacks and rushers in 2011. For the Bucs to go far, it's a must.
Just a hunch for Joe, but sans Miller, Bucs rock star general manager Mark Dominik is going to go all youth up front when the season begins (if it begins).
But Scheiber is correct: Dominik has spent much cash and collateral on the defensive line and it's about time it starts to show results. Joe firmly believes Keith Millard will do wonders with Gerald McCoy and he certainly won't hurt the rest.
It's not farfetched to think the Bucs could be in a Super Bowl (no, Joe's not saying the Bucs will be in the Super Bowl). Josh Freeman likes to talk about how the Bucs lost a playoff tiebreaker to the Packers. And it was the cheddar cheese and green that won the Super Bowl.
For the Bucs to accomplish such a feat, the defensive line has to dramatically improve.