Buccaneers: Florida's Favorite Team
July 7th, 2011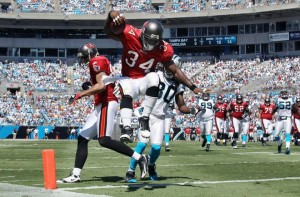 Are fans falling in love with the Bucs?
In what has to be viewed as a surprise considering the Miami Dolphins' long history and status as the first NFL team in Florida, a recent poll shows the Buccaneers as Florida residents' favorite professional sports team in the state.
Commissioned by the North Carolina-based Public Policy Polling outfit, an established left wing political pollster, about 850 people were surveyed and 17 percent picked the Bucs as their favorite in-state club.
The Dolphins and the Jacksonville Jaguars checked in at 16 percent. The Miami Heat got 14 percent, followed by the Rays and Orlando Magic with 11 percent. The Lightning scraped up 4 percent.
Sure, the accuracy of the data is reported to be roughly +/- 3 percent. But as Antonio Bryant used to say, "Film don't lie." The Bucs are Florida's favorite team.
A deeper look at the data shows women, those ages 30 to 45, and those who classified themselves as "very conservative" trended toward picking the Bucs.
Joe's hoping this all translates into ticket sales sometime soon.