Another Report That Aqib Talib Is Safe
July 17th, 2011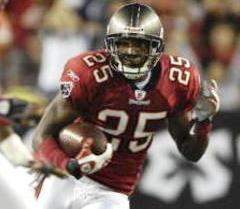 Much hand-wringing and kvetching and gnashing of teeth has taken place since troubled Bucs cornerback Aqib Talib was pinched for allegedly pistol whipping and firing a gun at a fleeing man earlier this spring in Texas.
After initial reports that Talib was a goner from the Bucs, information has trickled out little by little that the exact opposite is the case.
The latest report that Talib is safe comes from Jason La Canfora of NFL.com, who says his sources tell him that not only will Talib be on the Bucs roster through 2011, the case against him is shaky.
Soon after Talib's arrest, reports emerged that the Bucs would release him. But according to sources, team hasn't made a decision on the cornerback's future and hasn't set a timetable to do so. There's every expectation that he'll be with the team whenever the 2011 league year begins.

The Bucs haven't made any recent public statements about Talib, instead deciding to wait on decisions by the courts and the NFL before making any determination about whether or not to cut ties with the No. 20 overall pick in the 2008 NFL Draft. Talib's trial isn't scheduled until March 2012, and sources with knowledge of the case said the level of evidence and nature of the testimony against the 25-year-old might work in his favor.
It sure helps Talib that his case won't be heard until next season. Hard to run a guy right now when it is possible his charges could be lessened or  perhaps dropped.
Does this make Talib an angel? Of course not. He still has to face the court of Roger Goodell, who is not bound by Texas law. But it's difficult to issue Talib a football version of a felony sentence when his criminal charge could be a misdemeanor.