Clayborn Stands Behind Violent Comments
June 6th, 2011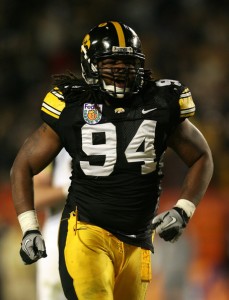 Back when the Bucs snatched Adrian Clayborn in the first round of the 2011 NFL Draft, the big defensive end got on the phone with draft guru Justin "The Commish" Pawlowski of WDAE-AM 620 and talked about being physical in a big way.
His tough talk got Joe fired up and some of the quotes went national.
Clayborn said Bucs fans will see a defensive end who gets after the quarterback and will "kick offensive lineman's asses" in the running game. And he said, "If you're not playing violent on the defensive line, there's something wrong with you. Go somewhere else."
Apparently, former Bucs QB Shaun King was paying attention and he asked Clayborn about those comments Friday on The King David Show on WQYK-AM 1010.
Shaun King: You made interesting comments after the draft. … You got a lot of fans by these comments. You were pretty adamant that you're very aggressive, that you're violent, that want nothing better than to hurt offensive linemen and offensive players. Talk about that mindset.

Adrian Clayborn: I just believe that's the way all great defensive linemen want to play. I mean look at [Ndamukong] Suh. He plays so violent. He gets after people. It's just an aggressive position. That's how I like to play and that's how I'm going to play.
Of course, Joe doesn't know whether Clayborn will pan out or whether he can back up the tough talk, but the Bucs could sure use a punch-him-in-the-mouth kind of guy at D-line or linebacker.