Raheem Spills Truth On Hard Knocks Pass
June 9th, 2011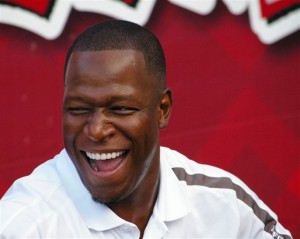 The lockout was the No. 1 factor behind the Bucs telling HBO producers to take their Hard Knocks invitiation somewhere else, so says Raheem Morris. And the possible impact on the franchise, Josh Freeman, was high on the list, too.
Raheem spilled a more candid take on why the attention-hungry Bucs passed on the ultimate national-attention grabber during an interview yesterday with the dean of Tampa Bay sports radio, Steve Duemig, on WDAE-AM 620.
"For us it was more about the first time we may get with our players could have been with full-fledged cameras in our face,"Raheem said. "And also, it could have been my first time seeing my team since [the lockout] or talking to them. And no matter what you might say, the guys shy away from you with a microphone on you.

"The one thing I didn't want to do was push Mike Williams away from me, or push LeGarrette Blount or even Josh Freeman because those guys don't necessarily don't want to be on the camera."
Joe can't quibble with the logic. If preseson is limited to a three-week, asinine lockout-shortened mess, it would be brutal for any coach to say, 'Welcome back, and don't trip over the lighting interns, camera guys and director's chairs.'
And if they had any concern Hard Knocks could affect Freeman's leadership style, that would have had to be the biggest red flag of all.