Lockout Has Hurt Aqib Talib
June 8th, 2011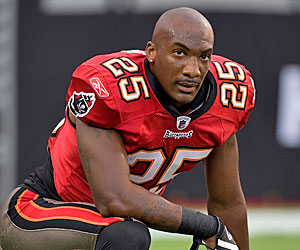 Apparently tapped out from watching game tape of college football, scoping for talent in next year's draft (if there is a draft), Bucs coach Raheem Morris visited Joe's good friend, "The Big Dog," Steve Duemig of WDAE-AM 620 this afternoon for a full hour of Bucs fun live from the Chris Thomas studio.
Knowing Raheem isn't allowed to discuss players during this asinine lockout forced upon the innocent American public by NFL strongman Roger Goodell, and acknowledging the powers that be at One Buc Palace were monitoring the broadcast to make sure Raheem didn't misspeak, "The Big Dog" walked out on potential thin ice and asked if the Bucs could trust embattled cornerback Aqib Talib enough to keep him on the roster.
Talib is currently embroiled in another controversy after being indicted by a Texas grand jury on a felony count of assault for an incident in March.
Raheem danced the tightrope about not discussing players and told "The Big Dog" all is well with Talib when footballs are flying in the air.
"When he is in a football setting, he's one of the best students of the game we have," Raheem said. "He got that from Ronde. Other things need to be groomed and nurtured. Hopefully we get those cleaned up."
That was a savvy, political dodge of an answer of "The Big Dog's" question. Big time. Well done Raheem (golf clap).
Joe is hopeful that if Talib is such a good student of the game, he can also become something of a student of proper behavior in the future and keep his nose out of trouble so he doesn't risk being suspended for a season by Goodell.