"Over-Under For A Deal Is July 4"
June 13th, 2011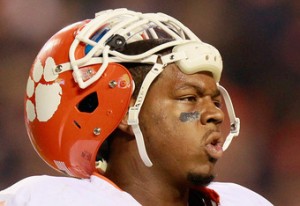 Coffee.
Donut.
Hope.
Joe can't resist injecting optimism into this bright Monday morning.  
Joe doesn't write about the details and developments of the asinine NFL lockout — no sense in boring everyone to tears — but Joe does follow the situation very closely.
Sports Illustrated football scribe Peter King, a man with piles of great sources, is spewing lots of optimism today about the end of the lockout in his Monday Morning Quarterback column on SI.com. Aside from referencing progress in meetings and various other stuff, King lays out a loss of $700 million if preseason games are cancelled. .
There are 11 nationally televised preseason games, beginning with the St. Louis-Chicago Hall of Fame Game on Aug. 7 on NBC. Each game has 60 ad buys, 30 seconds apiece. That's 660 spots. Altogether, the preseason generates around $700 million in TV, gate and ancillary revenue. The reason this matters is if preseason games are gone, there's going to be less 2011 money to share with players. The owners won't like that, and the players won't like it when the owners cut their offer once that money's out the window.

Therefore, each side knows it's to their advantage — both for getting players in shape as well as keeping the finances from plummeting — to make sure the preseason goes on as scheduled.
I said in SI the other day my over-under for a deal is July 4. I might say July 10 now, but I still think chances are better there will be a deal than there won't — and that deal will come within a month.
Joe's deciding to be giddy today, though aware this could turn out disappointing.
But $700 million smells like solid motivation to Joe.