Inside Talib's Case File
June 1st, 2011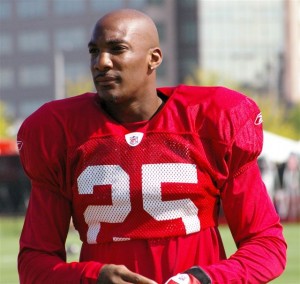 Picture this.
Aqib Talib's enraged mother arrives at her daughter's house, where her son-in-law, Shannon Billings, is outside and starts to move away from her as she shows a gun. She fires two shots at him while he runs away from the scene, presumably for his life, and the fleeing Billings then looks over his shoulder and claims to see Aqib Talib holding a gun and is sure Talib fires it several times at him.
This is the core of the case the good state of Texas is offering against Talib in his felony assault with a deadly weapon case.
A man running for his life at dusk, who happens to have a long criminal history, is fleeing a woman shooting at him and allegedly he was able to turn around in the frenetic scene and see Talib with a gun and know he shot at him. 
Joe had to laugh reading that in the arrest affidavit for Aqib Talib filed by the Garland police. Billings would have to be some sort of cool customer to pull that off. Maybe he can catch a football over the middle in heavy traffic.
The entire arrest affidavit filed by the Garland police that led to Talib's indictment can be read here. Much of Billings' account of the events, which the police stand behind, is below. (You can click the words to view it in larger type.)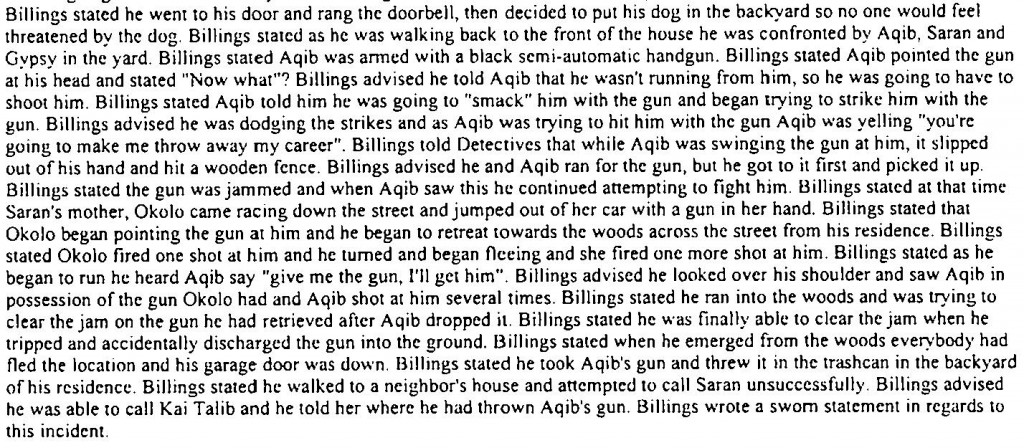 The police also have another witness who was interviewed twice, a female neighbor, who claims she never saw Talib with a gun. Her story, from the affidavit, is below. (Click words to see in larger type.)


Now the police presentation of Talib's statement and his mother's statement reveals a mess of contradictions. Talib admits to lying about his girlfriend being on the scene. And his mom's account is all over the place.
What is clear is there was an argument at the scene, shots were fired by Talib's mother, and apparently the only witness fingering Talib with a gun crime isn't going to win any credibility awards anytime soon.
There was no gunshot residue testing done on Talib, per a St. Pete Times report weeks ago. There were no injuries reported. And Talib's attorney Frank Perez told JoeBucsFan.com weeks ago that "we've interviewed 17 or 19 witnesses and none of them say Aqib Talib had a gun. He wasn't handling a gun."
The event details are sketchy at best. And if there ever were a trial, Joe suspects the accounts would get even more fuzzy and muddled.  
Talib is scheduled to appear in Dallas County district court tomorrow, per the court docket, as Joe reported earlier. A court official told JoeBucsFan.com that the appearance is not for anything specific, meaning that Talib's attorney's will be talking to prosecutors and things will move along from there.
Maybe the two sides move close to making a deal that keeps Talib out of prison and reduces his charge. Maybe they don't. Joe suspects Talib will never admit to firing a gun at the scene or trying to pistol whip anyone, either of which likely would be a major red flag to NFL lockout orchestrator Roger Goodell.
Regardless, Talib largely is viewed as a first-time offender in the eyes of Texas. His previous brushes with the law — not teammates — were very minor. And Talib is ripe for some sort of deal and/or intervention program, per discussions JoeBucsFan.com has had with Texas criminal attorneys not affiliated with the case.
Joe hopes fans will read the entire affidavit and make their own judgments, rather than rely on the few snippets the St. Pete Times provided last weekend that didn't seem too fair and balanced.