Gene Deckerhoff To Be Around A Few More Years
June 2nd, 2011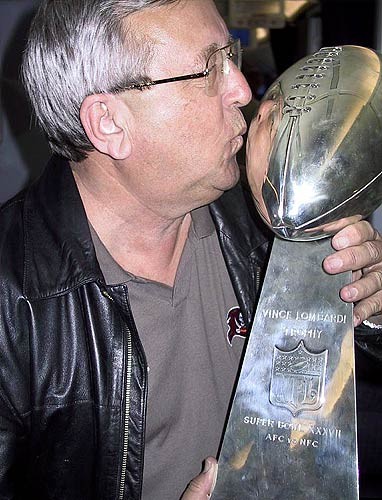 Just because the Bucs cannot make any player transactions doesn't mean the Bucs cannot conduct personnel matters.
The man whose voice has personified football weekends in Florida for so many years will get at least two more seasons on the job with the Bucs. Per Buccaneers.com, the voice of the Bucs (and Florida State), Gene Deckerhoff, has re-upped his contract to be behind the microphone of Bucs radio broadcasts.
A Florida institution for more than three decades through his work with the Buccaneers, the USFL's Tampa Bay Bandits and the Florida State football and basketball programs, Deckerhoff is possessed of one of the most recognizable voices in sports broadcasting.

About to enter his 23rd season calling Buccaneer games, Deckerhoff remains wildly popular among Tampa Bay fans and highly respected in the field of sports broadcasting. In fact, he recently won his 12th Florida Sportscaster of the Year award for his work in 2010.
It's hard to believe there are many Bucs fans out there who know no other voice than Deckerhoff's. That's how long Deckerhoff has been calling Bucs games.
Good news for a good guy. If you ever by chance run into Deckerhoff on the street, he won't big league you. Really, really nice guy and, more importantly, damn, what a set of pipes!