Greg Olson No. 7
June 22nd, 2011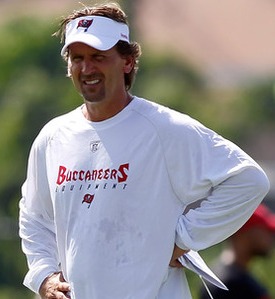 Joe so hungers for this asinine lockout to be over that even Rachel Watson has taken a back seat in Joe's lust. Joe's trying his best not to get excited — remember when Judge Nelson's decision was supposed to be bulletproof? — as anything can happen.
As a result, the Soviets of sports are actually having to produce some probing, intelligent work for a change rather than slurping Brett Favre, Peyton Manning, Tom Brady, the Cowboys, the Patriots, Rex Ryan and the grossly overrated NFC East.
The four-letter has come out with a "rising assistants" list and has Bucs offensive coordinator Greg Olson at No. 7.
Secret weapon: In two years, the Tampa Bay Buccaneers have developed quarterback Josh Freeman into one of the better starters in the league. The man largely responsible is offensive coordinator Greg Olson, who navigated a disastrous 2009 preseason — coach Raheem Morris promoted him in the middle of training camp after firing Jeff Jagodzinski — and NFL teams often seek out coaches with success developing young quarterbacks.

"I think Olson deserves a ton of credit for developing Freeman so quickly," said NFC South blogger Pat Yasinskas. "Freeman threw for 25 touchdowns and six interceptions in his first full season as a starter and carried an incredibly young team to a 10-6 record. I also think people need to look at what Olson did last year with rookie running back LeGarrette Blount and rookie receiver Mike Williams. He helped make them into instant stars."
While Joe isn't about to knock Olson for the solid job he has done, let's be honest, he's getting the kudos not so much for Mike Williams or LeGarrette Blount but for Josh Freeman.
And aside from Freeman exploding in his second year in the NFL and first full season as a starter, what else was different with Freeman in his second year from his first? He had a quarterback coach.
Joe remembers interviewing Peter King at the Super Bowl Media Day at Miami a year ago and King raved about Bucs rock star general manager Mark Dominik's hire of Alex Van Pelt as the Bucs quarterback coach.
Joe honestly doesn't know if Van Pelt should get credit for Freeman's advances or Olson or a combination of the two.
What Joe is getting at is that if the Bucs offense has another solid season and if the Bucs make any kind of a playoff run, it's a good bet Olson just may be a head coach somewhere else in 2012.
Provided Van Pelt stays with the Bucs, it would temper the loss of Olson leaving.