Fourth Quarter Josh Freeman
June 20th, 2011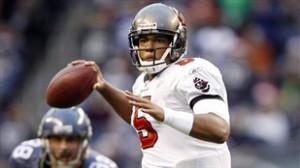 There's a lot to like about Josh Freeman. Dude is big, works hard, and is the Bucs unquestioned team leader.
But "The Professor," John Clayton of BSPN, suggests there is something else to like about Freeman. It's his fourth quarter savvy.
In this case, the Tampa Bay Buccaneers hit it big. Freeman was the 17th pick in the 2009 draft. Expectations weren't as high. Wisely, the Bucs didn't rush him into a starting job. They waited until the ninth week of the 2009 season to make him a starter and made the transition in a bye week.

Like most rookies, he struggled. He completed 54.5 percent of his throws, a typical percentage for a first-year starter. But he had a flair for picking up his game in the fourth quarter. By his second season, he was a master of fourth-quarter passing.

His 97.4 quarterback rating in fourth quarters was the seventh-best in the league. He completed 62.6 percent of his fourth-quarter throws. Top NFL quarterbacks earn their money with their ability to move an offense in the fourth quarter. Freeman has that.
This is all really good to read but Joe just wonders how much better both Freeman and the Bucs would be in 2011 with a full offseason program. Bucs coach Raheem Morris stated that the transition from a rookie to a second-year player is so critical and the Bucs sure had their share of stud rookies.
Damn this asinine lockout!