Arrelious Benn Can Sympathize With Fans
June 19th, 2011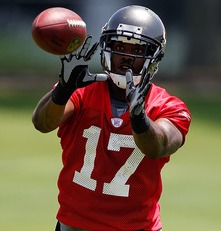 Joe tries to immerse himself this time of the year in baseball. More so this year.
Baseball actually helps Joe keep his mind off the asinine lockout forced upon the innocent American society by NFL strongman Roger Goodell.
Joe understands that late-June is often the small dead period for NFL news, and this year is no different.
What is different is that no one knows if anyone will hear the crack of pads when training camp starts in July because it very well may not happen. This has Joe lying awake at night with the shakes, not unlike what happens to Joe if he goes for a prolonged period of time without a cold adult beverage.
It seems Bucs receiver Arrelious Benn is of the same mindframe. All his life he had spring football of some sort until this asinine lockout happened. Now, just like Joe, he has no idea if there will be a training camp next month, so he Twittered over the weekend.
#Lockout please be over! I think I'm going insane!
Yes, Arrelious, please, please, please let this asinine lockout be over. For the sake of humanity, sanity and all that is right about America, NFL training camps need to be open or NFL cities may become Vancouver!
Get the job done Goodell!