Donald Penn No. 8
June 14th, 2011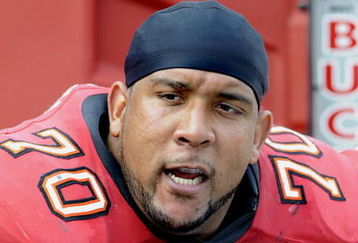 Amid increasingly positive rumors that the asinine lockout may be over with in a matter of a few weeks — Joe will see it when he believes it — there is still a dearth of news from NFL camps.
So to fill the void, NFL writers from the four-letter network have decided to create lists of top 10 players in various positions. Football blogger Pat Yasinskas was also involved.
So when it came to choosing the top left tackles in the game, Bucs left tackle Donald Penn found his name on the list and came in tied for No. 8 with Marcus McNeill of San Diego.
The longest shot. Somewhere, former Tampa Bay general manager Bruce Allen and coach Jon Gruden are smiling at Penn's name appearing on this list. It's true, they headed the regime that signed Penn as a free agent in 2007 after he was cut by Minnesota in 2006. Then again, they were also the ones who signed Luke Petitgout, and Penn only got a chance to play because Petitgout turned out to be washed up. I used to subscribe to the theory that you needed to use a first-round pick to get a good left tackle. But Penn has shown that's not necessary. In his case, he simply made the most of his shot at playing time and turned it into a $48 million contract as training camp started last year.
Well, actually the guy smiling the most is Bucs rock star general manager Mark Dominik, for it was Penn who caught Dominik's eye and it was Dominik who pushed for Chucky and Bruce Almighty to sign Penn.
Lord only knows what kind of turnstile would have been signed by Chucky or Bruce Almighty as a free agent if left to their own devices.