Clayborn Laughing About Rookie Salary Cap
June 23rd, 2011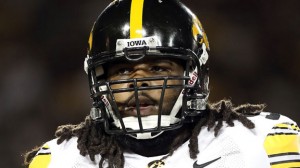 The boring world of asinine lockout chatter, which has been uplifting fans with much needed hope lately, has turned to alleged player-owner discussions of a rookie salary cap.
Essentially, the discussion centers around rookies no longer scoring tens of millions of guaranteed money before playing a down of NFL football. (Gerald McCoy was granted about $40 million guaranteed in his first contract.) Rookies would have to earn their way to beastly money after possibly two or three years of service.
In Joe's eyes it makes a world of sense.
However, Bucs 2011 first-round pick Adrian Clayborn doesn't seem to be on board. But at least he sees the humor and irony in him likely entering the league a year too late. Clayborn, an impressive, fun Twitterer, chimed in on Twitter last night.
@AJaClay – think its funny vets like the rookie wage scale. of course you do…NOW!
The NBA long ago realized that churning out massive guaranteed contracts to rookies was foolish and unnecessary. It's not a tough concept to grasp.
Joe would love to see a scenario in which NFL teams can better reward and keep their accomplished players.
Joe can only imagine how giddy Chucky would be to have such a policy in the NFL. With all that extra money to sign ancient veterans, the guy might never sleep in the offseason.