Bucs Running Backs Last In NFC South
June 12th, 2011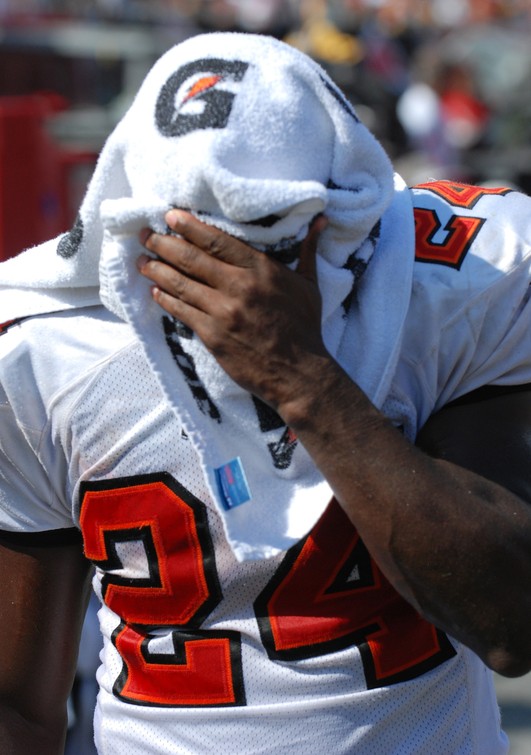 Joe was geeked as anyone that LeGarrette Blount busted onto the scene last year and literally made the offense blow up. One could argue Blount was the Bucs' MVP.
But Matt Williamson of Scouts, Inc. is not moved. Even with Blount blowing up opposing defenses, Williamson is of the mind the Bucs have the worst set of running backs in the NFC South.
But here is what I think of Blount. I see what everyone else sees in him in that he obviously has tremendous size and power, and also has nimble enough feet to make people miss and even jump over defenders in space. He is impressive. But I also see a wildly inconsistent player, which I will admit is not a huge red flag or uncommon for a rookie at any position. But I would like to see him run with aggression on every carry. He did run for over 1,000 yards in just 13 games. But Blount is also a liability in all phases of the passing game and can help his team only on early downs.

There is very little behind Blount to get overly excited about and I fully expect the Bucs to be players in the free-agent running back market — most likely shopping for a good receiving threat out of the backfield.

Kareem Huggins has some of those third-down back type of traits. But he appeared in only three games last season and ended up on injured reserve. Despite a very impressive preseason, Huggins has just four career NFL carries. Counting on him might be unwise.
Well, Joe thinks Williamson is nitpicking on Blount, but the rest of his argument holds water.
To many Bucs fans ire, Joe wrote early and often last offseason that the Bucs rushing attack was impotent. Joe loves Earnest Graham and Cadillac Williams to ,but as fulltime starters sharing the backfield they certainly weren't getting the job done.
If anything, the emergence of Blount has shown that Cadillac is most effective and valuable at this point in his career coming off the bench as a third-down, change-of-pace kind of guy.
It was not a coincidence that when Blount starting running like crazy, the entire offense for the Bucs blew up because suddenly defenses had to concern themselves with the run, whereas before, they just worried about the pass and dared the Bucs to run.