Raheem Compares Freeman To Doug Williams
June 11th, 2011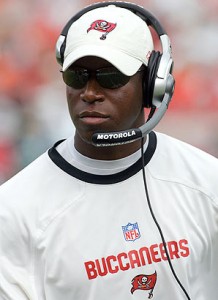 Call Joe a sucker, but Joe's a compulsive Bucs junkie that actually paid $12 to read a story about Doug Williams and Raheem Morris yesterday.
Yes, Joe forked over the cash to the esteemed Ruston Daily Leader, a newspaper covering the area around Grambling State University, in order to read a feature behind the cloak of paid content. The story seemed to promise revealing and exciting news of Raheem's participation at Williams' charity event in the area last weekend.
Well, it wasn't that exciting. However, during a speech at the Horseshoe Casino in Bossier City, Raheem did compare Josh Freeman to Williams, and Raheem offered a new spin on the "stats are for losers" mentality.
"Josh is much like Doug was when he played for Tampa Bay and in the NFL," Morris said. "He's a tough competitor and a great leader who believes that, no matter what, his team is capable of winning.

"That's the type of quarterback you want leading your team."

A former defensive back at Hofstra, where he later served as a graduate assistant and secondary coach, Morris is hopeful of the Bucs continuing their "I believe" attitude this season.

"I want our goals to be really more about how we look at things mentally than statistically," he said.
Joe thinks it great that Raheem headed on up to the middle of nowhere Louisiana to help Williams' charitable foundation. And Williams heaped high praise on Raheem's altruism in a recent Shreveport Times story.
In this video from the charity golf tournament associated with the weekend festivities, Bucs fans can catch a look a Raheem's golf swing and putting style, plus hear Richard Dent give his take on whether Doug Williams should be a Hall of Famer.