2011 Likely Josh Johnson's Last Year With Bucs
June 7th, 2011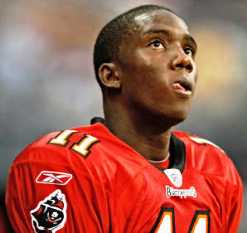 Raheem Morris famously referred to him as a "career backup." Bucs fans think of him as sort of a slash player, brought in on gimmick plays to confuse opposing defenses.
But Josh Freeman's backup, Josh Johnson, doesn't see himself that way, so he tells video star Anwar Richardson of the Tampa Tribune. So once the 2011 season is completed — if there is a 2011 season — it very well could be Johnson's final appearance in pewter and red.
Johnson has never complained about being a backup, but he also does not anticipate holding a clipboard once he becomes a free agent after the 2011 season.

"In all reality, and it might sound crazy when I say this, I never played football to just be a backup. That was never my goal," Johnson said on Tuesday. "I always push myself to be the best and the only way you can be the best at something is being on the field all the time. That's not the situation I am in right now. I'm not playing and I understand why I'm in that situation, but I didn't get into this (football) for lifetime financially security.

"That's what other people's goals are, but I got to get on the field. That's just the kind of player I am. I like to earn my keep. If I fail on my own, I can live with that because I had the opportunity, but if I have to sit back and accept what is already there for me to get, then I'll feel like I shorted myself, and I don't get down like that."
Unless something dire happens to Freeman, Johnson will never get a chance to be a regular starting quarterback in Tampa Bay. Joe can't blame the guy if he wants a shot.
If Joe were Bucs rock star general manager Mark Dominik, knowing Johnson will walk away, why not trade him to the 49ers where he will be reunited with his old college coach, Jim Harbaugh, on a team that clearly has no solid starting quarterback, and thereby get a draft pick for him?
We all know how much Dominik covets draft picks. Joe would hate to see Johnson go, but he can't blame the guy for wanting a shot at a starting gig.