"We Had A Lot Of Offensive Linemen In."
May 26th, 2011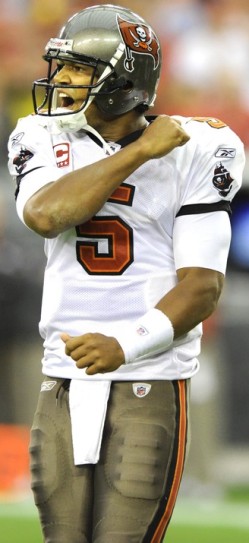 Bucs team leader and starting quarterback Josh Freeman appeared on "The Blitz" Wednesday co-hosted by popular sports radio personality Adam Schein and former NFL quarterback Rich Gannon, heard exclusively on SiriusXM NFL Radio. In the segment, Freeman described the team workouts he has organized during this asinine lockout orchestrated by NFL hatchetman Roger Goodell, and lauded his dedicated teammates for coming out to participate in droves.
Adam Schein: He's one of our favorite quarterbacks, we welcome Tampa Bay Buccaneers outstanding quarterback Josh Freeman, Josh, welcome back to the show this is Adam Schein along with Rich Gannon, how are you?
Josh Freeman: I'm doing great.
Rich Gannon: You're one of the quarterbacks that has to be concerned with the lockout because you carried a lot of momentum into the offsesaon. Are you concerned that the momentum lost may hurt the team because you haven't had the opportunity to be part of the offseason program?
Freeman: For sure. Being a young team, with a lot of young guys, being able to be together and to work in the facility and to be around the coaches, it was very valuable. Last year, the type of offseason we had led to us being competitive and winning games. Not being around the coaches and the facility hurts. We are trying to figure out how to get quality work in.
Schein: You and Raheem Morris and Mark Dominik talked about how important the offseason is. You are organizing workouts. How has the participation been?
Freeman: It's been good. The thing about being such a young team, a lot of these guys, it's tough for them to maintain a house or an apartment here without a workout check. It's been good though. We have found a way to get guys into town and to work. We try to get together for two weeks out of the month. Kellen Winslow, as soon as he heard about the lockout, he moved right back out here and we got a lot of work in, good work, watching film. This week we had a lot of offensive linemen in and some defensive guys. [Joe's note: Joe has learned Jeremy Trueblood was among the offensive linemen in attendance.]  They take the Bucs logo very personal. It's been great for the guys. We will have anywhere from 35 to 20 guys. We're definitely getting the work in.
Schein: Josh, you get the sense that the workouts you have set up, people are hungry.
Freeman: No doubt. We were so close last year. There were so many games, yeah we were close but we should have pulled those games out. We had two close games with Atlanta that they got away with and the Detroit game. We have to find a way to win those games and get over the hump. The playoffs are just a start.
Gannon: Change is constant in this business. What kind of changes do you think will happen with the offense? Where will it evolve?
Freeman: You know, our playbook is huge. Rich can attest, there is so much you can do with it. Coach Olson does a great job of mixing it up week in and week out. I know we have a new offensive line coach so I am sure he has a different philosophy on calls. But I don't anticipate that much to change. Being a second-year guy with these rookies, like Mike Williams and LeGarrette Blount it will allow the offense to move forward. This will be my third year. I am very comfortable with the offense. It just keeps moving forward.
Schein: How comfortable are you as a leader of the Bucs?
Freeman: I have been very fortunate growing up with my parents and my high school coach and my college coach. I've really been groomed for this. I always had the opportunity to step up and lead. In the NFL, I viewed it as a challenge. It starts with hard work and being on time all the time and ultimately performing on the field. I feel like this role I am made for but I have a lot of character teammates. Everyone wants to lead and do the right thing.
Gannon: You came in a really bad situation. You had no quarterback coach after Jeff Jagodzinski was fired. Then you had the blend of two systems. How important was an offseason a year ago when you cleaned things up? How much did that help?
Freeman: It helped a lot, it really did for my game. When you step into that situation, that is not comfortable. My rookie year I tried to rely on my physical abilities and I took a lot of chances. After spending some time with Coach Olson, I followed him around the building and he would have me go out of the building and work on my footwork and that really helped my game.
Schein: Josh, you really deserve a lot of credit for organizing these workouts for the Buccaneers.
Freeman: Thank you.