Talib Showing Dedication At Freeman's Workouts
May 27th, 2011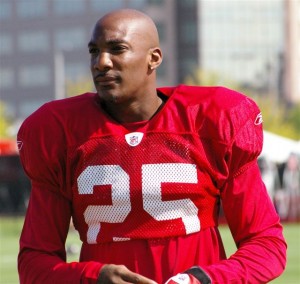 Unlike a certain center and team captain, Aqib Talib has not turned down Josh Freeman's invitation to work out with his teammates in Tampa.
NFC South blogger Pat Yasinskas, of the BSPN syndicate, reports that the former helmet-wielding, cabbie-slugging Talib is a regular. The recently indicted cornerback is working on both sides of the ball.
Teammates said Talib has been coming out to players-only workouts run by quarterback Josh Freeman on a fairly regular basis this offseason. The workouts have been mostly for offensive players, but the teammates said Talib has gone through workouts in the weight room and worked as a wide receiver on the field. The teammates said Talib sometimes will line up at cornerback and shadow receivers on their routes, but no contact is allowed and he's been one of the few defensive players to show up.
Kudos to Talib, who played some receiver during his college days at Kansas. Hopefully, none of the Bucs there decides to tease him with a mother joke.
In all seriousness, Talib's attendance illustrates what a tough call Mark Dominik and Raheem Morris likely will have to make on Talib's future, assuming he cuts a deal on his pending felony assault charge in Texas and stays out of prison.
Obviously, Talib's attendance shows he has the support of his teammates.