Raheem Morris Wants Barrett Ruud Back
May 24th, 2011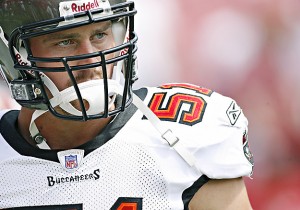 Bring up the name "Barrett Ruud" and many Bucs fans slam their beer down so violently and scream obscenities so loudly they are thrown out of they're neighborhood bar.
To hear these same Bucs fans bellow, Ruud is such a disgrace to the NFL he should be shopping for feminine products.
But NFL insiders and those that played the game, from Pat Kirwan to Steve White, from Tim Ryan to Derrick Brooks explain in great detail why Ruud is as important a cog to the success of the Bucs defense as any player strapping on a chin strap.
Count Bucs coach Raheem Morris in the latter group. In speaking with video star Anwar Richardson of the Tampa Tribune this morning, Morris explained how both Ruud and Cadillac Williams are key targets to re-sign with the Bucs.
"First of all, you mentioned two guys with great character," Morris said. "Two leaders in our community and two guys that gave us great service throughout their time and hopefully it can continue.

"We'll get a chance to sit down when all the collective bargaining agreement stuff is solved. We'll get a chance to find out if we can have both of those guys back on our football team, the two guys that we know we'll have in free agency right now. We'll just have to wait and see."
Now whether the Bucs can retain both Ruud and Williams is another story.
As this notorious, asinine lockout drags on in large part thanks to NFL hatchetman Roger Goodell, Williams will continue to be the object of desire by the Rams and Ruud will (wisely) continue to work out with the eastern European hotties of the WTA.