Raheem Explains "Kinda The Mentality"
May 23rd, 2011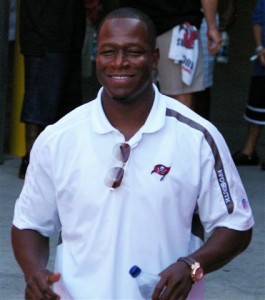 In what Joe can only describe as a 90 second stream of consciousness that rocked Joe's world on many levels, Raheem Morris touched on a multitude of Bucs topics — past and present — during an interview last week with Mike Pepper on WQYK-AM 1010.
Revealing his masochistic side, Joe has transcribed the audio. You can read it below. Raheem was asked to explain what it's like interacting with fans now versus coming off a 3-13 season, and the head coach brought his A-game.
Mike Pepper: What's the difference between this summer and last summer? Fans, instead of going, 'Ehhh, Hey, Coach,' they are like happy with you. Yes?

Raheem Morris:  Well, when you go back to the beginning, I gotta be honest, the Tampa Bay area is awesome. I know you guys probably get the tougher [questions] than I get on the street. Because if I get an upfront question that you may have to talk about on the radio, it's easy for me to absolutely sit there and talk to you and detail myself and just kill you with knowledge. By the end of the day, you're going to walk away and you might have had a negative or a derogatory comment and you're going to leave and say, 'Man, that guy's a good guy.' So that stuff's easy for me. So that never really bothered me.

I remember reading things, like I told people I like to go to Publix and like to do things on my own. And they said, 'You know, after you lose a couple of games you won't want to do that.' That's not necessarily true. You gotta be able to face your critics.

What I do is not based on confidence. It's a mentality before it's ever reality. So we always go into it with the same mindset. You know, you're kidding yourself if you think you're gonna to lose guys like Derrick Brooks, Warrick Dunn, Jeff Garcia, Joey Galloway and all the great players, Ike Hilliard, all the players that walked outta here and that year that we had to let go and make moves and do changes and think you're going to win a bunch of games. You're trying to get better, and you're trying to build something for the future. And you draft a quarterback. You want to do that, and that's how it started when we went 3-13 that year. So going into the next year, in your next offseason, you're knowing you're coming back and you're going to be better.

That's why you can put things out there like the 'Race to 10.' You can put things out there like 'We're the Best in the NFC' because you're creating a confidence around your team.

So now that confidence is created amongst our team, amongst our fan base, amongst our sportswriters and reporters, now we can go out there and we can go get it. This year we want to win our division. This year we want to be our very best self like we've always wanted to be. And we want to go out there and get it. And that's kinda the mentality.
Joe finds it interesting that Raheem all but admits here that the Bucs chances of winning in 2009 were a joke. 
Plus, Joe is surprised that Raheem talks about creating confidence "amongst our sportswriters and reporters" like it's somehow important. How could that remotely matter?
Joe can attest to the fact that the media won't win or lose one damn game for the Bucs in 2011, or in any other year. Rick Stroud may type and Twitter well but he's not going to shed a block. Anwar Richardson might be a video star, but he can't talk his way out of a pass rush. And the media won't be influencing personnel decisions anytime soon.
Regardless, Joe likes Raheem's mentality that the Bucs are ready to win now — now that they've put the building blocks and confidence in place. It'll be interesting to see how the team reacts when the free-agency bell rings.