Not Everyone Drinking Bucs Draft Kool-Aid
May 14th, 2011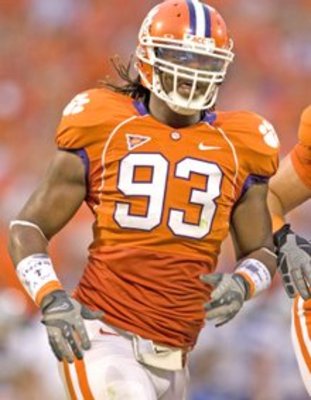 Most football observers rose in unison and applauded Bucs rock star general manager Mark Dominik for yet another savvy draft.
But not everyone leapt from their seats.
Seems as though Adam Caplan of FoxSports.com was very much underwhelmed with the Bucs draft, specifically Dominik's first two selections, Adrian Clayborn and Da'Quan Bowers. Many Bucs fans believe these two will be bookends for a number of years.
Not Caplan, who explains why he's not buying Dominik's draft in a FoxSports.com mailbag.
Question: If you consider Tampa's draft only a C, you need to step back and re-examine. Picking up the top two ends (Da'Quan Bowers and Adrian Clayborn) with only minor concerns was brilliant. Then picking up the top tackler in the draft (Mason Foster) with their next pick only added to the genius. — Mike A.

Answer: Mike, I hear you, but you need to look at why Bowers slipped way down and why Clayborn wasn't selected any higher.

In Bowers' case, it's hard to argue with the belief that he should have been a top-10 pick based on talent alone. But his knee surgery, which some teams believed was microfracture or close to it, caused his drop. And many of those teams questioned whether he'll be able to have a long enough career to warrant selecting him in the first round. Medical issues come down to risk. Thirty-one teams believed the risk was too high in the first round. The Buccaneers waited until they thought the risk was worth it in the second round. Time will tell if he turns out to be a steal or not.

As for Clayborn, I had him pegged there, I believe, in all four of my mock draft updates. And the reason is I had a strong feeling that based on his medical issue (Erb's palsy), he wouldn't be selected within the first half of the first round. The interesting thing is that on tape, you really can't tell there was an issue. But that condition affects one side of his body, and sources said you could see that with his shirt off, the affected side wasn't as developed as the other side. Many teams were concerned that he could play on only one side of the defensive line. It will be interesting to see how he does in the NFL.

As for Foster, he's an intriguing player. He could play middle or strong-side linebacker in Tampa's 4-3 defense. He'll bring a physical presence. And there could be jobs open at both positions depending on the rules of free agency.
Joe's not so sure Dominik is dodging Bowers' issues, but Dominik has gone on record he's comfortable in picking Bowers.
Clearly, only time will tell and picking Bowers very much was a roll of the dice. But it's not a huge roll where he was selected. Three years from now when people start getting a full read on whether a draft class was good or not, how Bowers is playing will go a long way to determine Dominik's final grade of this year's draft.