More Blackouts Looming?
May 31st, 2011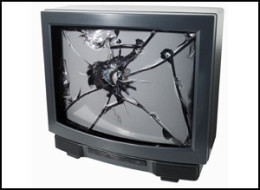 Some interesting news on the Bucs ticket sales front and it doesn't look good for Bucs fans wanting to watch homes games from their homes.
Earlier today, David Kaplan of the Sports Business Journal, usually a very solid, credible source of sports business news, Twittered that NFL teams are ahead of schedule in season ticket sales.
Kaplan did not specify his source but teams don't normally release season ticket sales information, especially if sales are down. That's not exactly public information.
Now Sunday, eye-RAH! Kaufman of the Tampa Tribune reported that while earlier this year the Bucs season ticket sales were brisk, the engine has run out of steam, largely because of the asinine lockout brainstormed by NFL chieftain Roger Goodell.
As a result, Kaufman suggested lockouts may be common again this season at The CITS unless this asinine lockout ends soon.
Ten weeks ago in New Orleans, Bucs co-chairman Joel Glazer said club officials were encouraged by strong season-ticket sales for 2011. But the uncertainty about when, or even if, the new season will begin has hurt marketing efforts for all 32 teams.

Last year, the Bucs were the only NFL club with every home game blocked out in the local market. With sales stalled, Tampa Bay fans without a ticket may once again have to travel out of the blackout region to view games at Raymond James Stadium.

Even the one home game that appeared certain to be televised in the Bay area, an Oct. 23 matchup against the Bears at London's Wembley Stadium, could be blacked out because the game will be played in Tampa if the lockout is still in place Aug. 1.
Joe would be stunned if the Bears do play at The CITS and that game would be blacked out. Bears fans used to flock to Bucs home games in droves, largely because of the awful weather the second city has. October in Chicago, specifically late October, is usually miserable. Bears fans used to invade Tampa Bay for a short weekend vacation when the Bears played here annually.
But there is also potentially good news for Bucs fans who prefer the leather couch in air conditioning with the 50-inch HD TV and the cheaper beer in the fridge than the upper deck on the east side of the stadium, roasting on a plastic seat with $7 beers and a standard-def replay board that too often shows more commercials than replays:
Kaplan also Twittered that the NFL is researching adjusting blackout standards and requirements so it's easier for teams to broadcast home games.