Josh Freeman Among Top Players
May 16th, 2011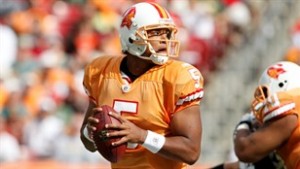 Joe has decided to help out his loyal readers who, for reasons Joe cannot understand, refuse to be men and instead, wallow with a far inferior product, Out House Networks and its celebration of yentas.
Recently, the NFL Network aired the lower tier of its Top 100 Players of 2011 and Josh Freeman was on the list. Here is the highlight video featuring him. It's narrated by John Abraham.
In the second video, co-hosts Lindsay Soto, Brian Baldinger and Charles Davis discuss Freeman and other quarterbacks on the list.