Aqib Talib Is Not An Elite Player
May 15th, 2011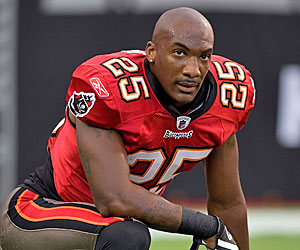 When Texas authorities accused Bucs cornerback Aqib Talib or pistol whipping and shooting at a fleeing victim recently, it was just another in an escalating series of violent acts by the Bucs former first round draft pick.
Many local media members demanded Bucs rock star general manager Mark Dominik jettison Talib the instant a CBA is in place, or the American judicial system orders NFL owners back to work as normal.
Many Bucs fans howled upon hearing this, claiming the Bucs would crumble before their very eyes and become the Yucs without Talib on the roster.
Khaled Elsayed of ProFootballFocus.com isn't a Talib apologist. Though he writes that Talib is a good cornerback, Elsayed doesn't see Talib among the NFL's best.
Because you just can't trust Aqib Talib. Regardless of whether this latest incident sees him facing any follow up action, do you really think Talib is going to turn into the model player? Even from an on the field point of view, it's not as if Talib is one of the leagues' elite corners that you can look past indiscretion after indiscretion. That's not to say Talib isn't a good player. He's always had a positive grade in our coverage rankings, but never challenged the top guys with his tendency to give up too many touchdowns.
This reminds Joe of what his good friend Bernie Miklasz of the St. Louis Post-Dispatch told Joe  this past season: That Talib is a gambler. And what happens when you gamble? You get burned.
As Joe has written before, elite cornerbacks don't volleyball touchdowns to the opponent like Talib did against Pittsburgh. Elite cornerbacks haul those passes in, not assist in two offensive touchdowns.